HELHa team participates to the dinner of Imasons Infrastructure.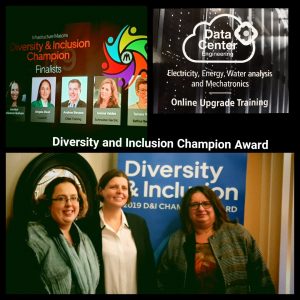 One of the most pressing challenges we face in the digital infrastructure industry is attracting and retaining talent – there simply aren't enough available, qualified people in the current talent pool to build and operate the systems and continue the pace of technological innovation. Fortunately, we needn't look far for a solution: women and other underrepresented groups represent a huge and relatively untapped pool of tech talent.
Infrastructure Masons are committed to expanding diversity and inclusion by promoting a culture of awareness in our industry. The Infrastructure Masons launched The Diversity & Inclusion Champion Award in 2018 to recognize and celebrate achievers in diversity and inclusion so their contributions become visible, rewarded and amplified throughout the industry.
The aim is to change the image of the industry and convince underrepresented groups to consider a career in IT and attract a wider group of people to the industry.
Ivonne Valdes, working at Schneider Electric, the finalist continues to make a significant impact in the advancement of inclusion and diversity in technology.